Luxury Vinyl Care
Spills, stains, scuffs, scratches, and more! We understand that purchasing new flooring is a major investment for the average homeowner and chaos can happen at any time. Luckilly, luxury vinyl flooring is resilient and engineered for an active lifestyle! There's no need to stress over the activity in your rooms: Luxury vinyl flooring looks like real hardwood and stone but has tremendous moisture protection and reinforced finishes. From preventative steps and regular routines to proper spill and stain treatment, you will love how easy it is to maintain your luxury vinyl floors.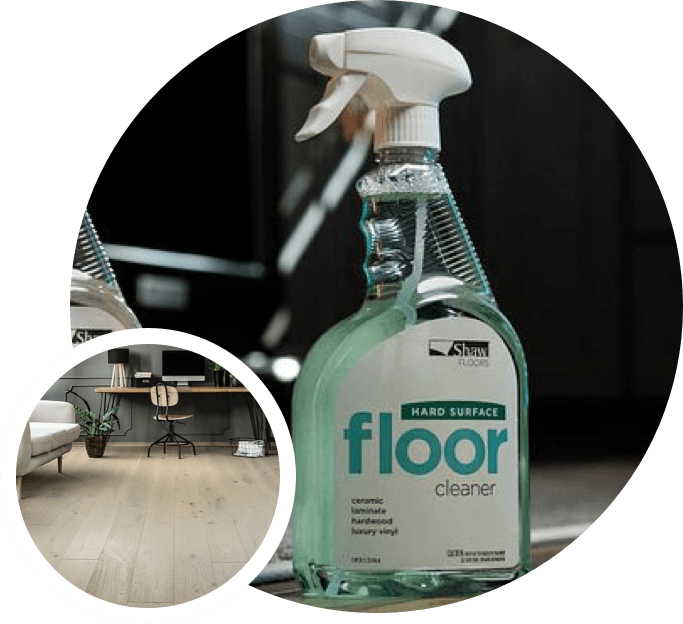 Follow these preventative care steps to help reduce the everyday wear and tear that your luxury vinyl will face:
Place mats at all entrances to prevent tracked-in debris from entering the home.
Use area rugs in your home but avoid rugs with rubber backing since luxury vinyl floors contain chemicals that react with both natural and synthetic rubber when triggered by sunlight and stain the  floor.
Keep pet nails trimmed and brush pets to reduce pet dander.
When knocked-over glasses or plates of food occur, you can easily treat spills on your luxury vinyl:
Wipe up spills with paper towels or a dry cloth.
Use a cloth and water to remove any spots, and a soft nylon brush and pH-neutral vinyl cleaner as needed.
Do not use steam cleaners, harsh brushes, steel wool, or ammonia cleaners.
To prevent wear-and-tear to your luxury vinyl surface, it's extremely important to remove abrasive particles on a regular basis:
Sweep, dust-mop, or vacuum daily or weekly to remove dirt particles, dust, small food particles, and pet dander.
Disengage the beater bar on your vacuum cleaner to avoid damaging the vinyl surface.
Check your luxury vinyl warranty before purchasing or using a robot vacuum cleaner.
For the most effective long-term luxury vinyl care plan, maintain your floors by:
Wet mopping your luxury vinyl floors for an efficient deep clean.
Use felt protectors under chair legs, as well as the legs of heavy tables and furniture.
Use proper moving equipment with wheels when relocating heavier pieces between rooms.