Laminate Installation
When you want durable laminate floors in your home, we are the installation experts in Martinez, CA! We can successfully bring realistic laminate flooring to your home or business, with long-lasting results and premium performance. Which steps do you need to handle ahead of time? How long until you can walk on your laminate and bring furniture back in? The more that you understand the entire laminate installation process, the less your rooms will be displaced before, during, and after. Read more below and get ready for your new laminate!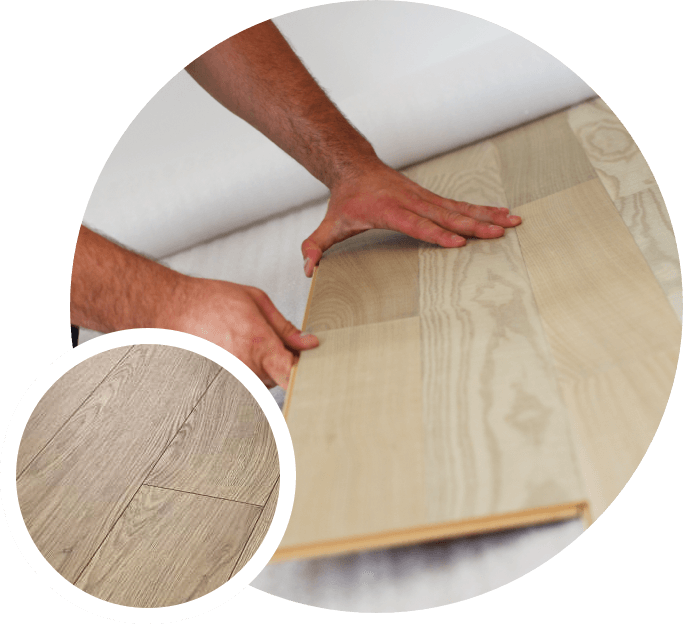 Before laminate installation can even begin, you will need to ensure that these important steps are complete:
Remove all furniture and furnishings from the room and closets that are receiving new laminate.
Take everything framed or hanging off the walls, since these items can easily get knocked off.
Remove the doors in advance in case the new laminate flooring height will prevent full range of movement, especially if the laminate is installed as a floating floor.
Now, it's time to properly prep the area for laminate installation:
Laminate can often be installed over existing flooring, so you may not need to remove flooring!
Floating floor installation can go over a variety of subfloors so assess if your subfloor is in proper condition with your installer.
Bring in the new laminate to acclimate for at least 48 hours in advance.
When your laminate installation day is here, make sure to follow these guidelines:
Stay at home to answer all questions that your laminate installers may need to ask you.
Designate an area for laminate installers to keep tools they need such as a jigsaw, hammer, crowbar, tapping block, spacers, bevel tool, and more.
Keep kids and pets well away from the laminate installation process, and from the installer work area.
After your new laminate is installed successfully, make sure to ask any questions and observe the following:
Laminate floors that are not glued down are ready for regular foot traffic right away.
Laminate floors that are glued down need at least 48 to 72 hours to set before receiving foot traffic or furniture.
Make sure all doors work properly. With floating floors, you may need to shave down doors in order for them to swing freely.
Carefully move furniture back into the room using moving equipment, and use protectors on the feet of chairs, tables, and furniture to avoid damage.