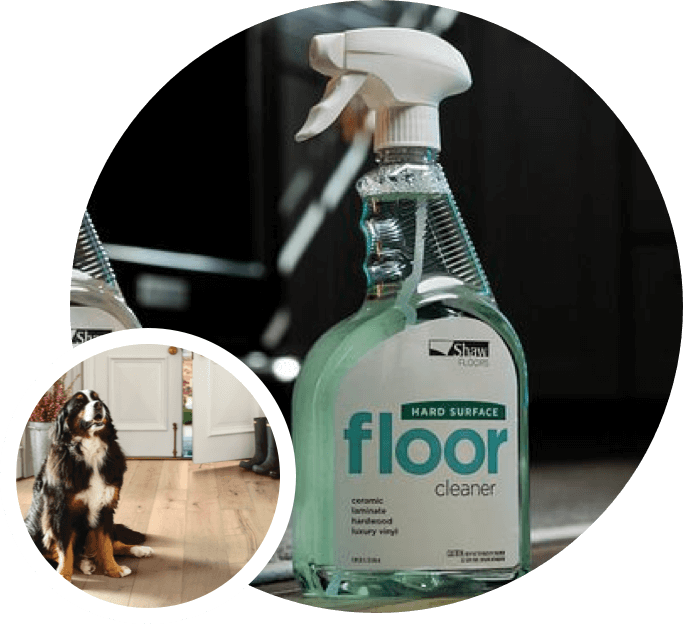 Follow these preventative care steps to help reduce the everyday wear and tear that your hardwood will face:
Place mats at all entrances to prevent tracked-in debris from entering the home.
Use area rugs in your home but avoid rugs with rubber or vinyl backing as they can cause discoloration or dulling of a hardwood finish.
Keep pet nails trimmed to prevent scratches and brush pets to reduce pet dander.
When knocked-over glasses or plates of food occur, treat spills on your hardwood as promptly as possible:
Use a gentle microfiber cloth or mop instead of scrubbing pads.
Do not use a steam cleaner or professional-grade products, vinegar, bleach, or wax on your wood floors.
Use a gentle, mild hardwood cleaner specifically made for polyurethane finishes and apply it directly to your mop or cloth.
To prevent wear-and-tear to your hardwood surface, it's extremely important to remove abrasive particles on a regular basis:
Sweep, dust-mop, or vacuum daily or weekly to remove dirt particles, dust, small food particles, and pet dander.
Disengage the beater bar on your vacuum cleaner to avoid damaging the wood surface.
Check your hardwood warranty before purchasing or using a robot vacuum cleaner.
As a part of your long-term hardwood care plan, consider refinishing or restoring the surface if:
If your floor has too many visible scratches that go through the stain of the wood.
If fading over the years creates an undesirable contrast to the unaffected areas of your floor.
If humidity or extreme temperature changes have created permanent cracking or cupping.
If a liquid spill, pet accident, or improper cleaning product has created discoloration.